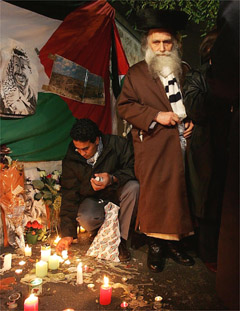 I've seen recently where the discussion turns to חכמים הזהרו בדבריכם. The geniuses who choose the verse also decide to whom and where to apply it. So, if some ignoramus boor who just recently opened a Tehillim or any other Sefer decides to translate some Posuk like בני בכורי ישראל, to mean that Hashem ח"ו etc. The Tehillim will not be blamed, obviously, for the boor's obvious mistake. If this guy "runs with it" and makes this into some kind of movement, like has been done in the past, the Tehillim will still not be blamed.
The problem and the distinctions arise when other works and words are the sources for these people to misconstrue, like someone you already don't like, so you blame him for not being careful. For example, a previous post discusses a wonder of nature called "Neturei Karta", with it's many chapters and branches. These specimens, as much as you may not like it, do the dirty work for a large part of the zealot community, and are defended and supported. Of course, they'll be condemned in the open and will be distanced from any other political group, but they will be supported financially and unofficially. I myself have been to many Simchas where these individuals have shown up, and they're quite friendly with the locals in some Brooklyn neighborhoods.
You may ask "Where's the problem with that", and whose words are they distorting?
They distort little known and irrelevant quotes, Midroshim, Gemorres, etc. to defend what they preach, namely words of the previous Satmar Rov, z"l. They have former Talmidim of the Satmar Rov as their Rabbinic endorsers, albeit from a distance. They quote him at every opportunity, as well as many others.
So, why weren't those Rabbonim more careful with their words, foreseeing what lunatics like that could do with them? Did they not have the foresight that they had in other areas, or so is claimed about them. Most of the followers have axes to grind, like Beck, or have no Mesorah to follow, like the guy from Vienna or Weiss, or other converts and newly religious who are the mainstays of these organizations.They are basically the same types of people who make up the fringes of groups like Lubavitch, Breslov etc, yet they get a free ride as far as their sources go, whereas the Lubavitchers don't. "They should've foreseen this" is what the zealots say.
I foresee a double standard, what about you?