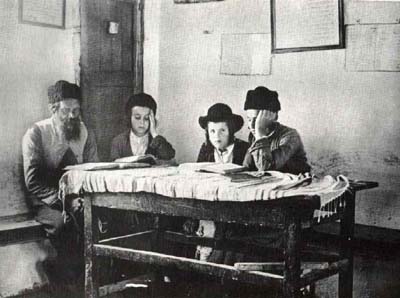 People are busy preparing for Shavuos, each in his own way. If you read the "Charedi" press where they bring aticles from today's gedolim, or listen to Droshos from today's Darshonim, then you would see that the preparations that involve the male segment of the population all involve strengthening their commitment to studying Torah. The women I won't bother with now, they've got enough on their minds.
On Shabboss afternoon in the Chabad Shul the Mashpia speaks about the Mitteler Rebbe , when asked what he would like to merit this Yom Tov, he says, to feel the "Lahavas Eish" that burns in the hearts of the Ish Poshut. The Talmid Chochom is like the Eitz Hasodeh, the imposing tree, but the Ish Poshut is like the Sneh, the burning bush, that does not get consumed by fire, it's always hungry for G-d. So, although the Torah is what connects you to Hashem, the Ish Poshut is appreciated more for his sincerity, for his words of Tehillim, his simple recitation of the words of Torah. These wordsof the MR are based on the appreciation that the Baal Shem Tov had for all Jews, especially the simple ones.
So why is Chabad the only group that continues to preach this angle? Why has it happened that in all other Chassidishe circles the ideals of the Yeshivah world have seeped in so strongly that only the learned are appreciated and respected, and the simple ones frowned upon? That's not to say that learning isn't condoned and appreciated, on the contrary, Chabad was organized in order to strengthen the learning and deeper understanding of Chassidus. They have managed however, to realize that the greatest Lamdan and "Maskil" of Chassidus can still appreciate the simple Jew.
In other circles this seems to have been forgotten. Many Chassidishe Bochurim that have a Geshmak in learning run to the Litvishe Yeshivos in Eretz Yisroel and elsewhere. They adapt the Litvishe style of learning and are embarrassed to be associated with the simple Jews, so much so, that in many cases they're ashamed of their own Minhogim, looking at them as a complete waste of time. Shavuos is a time when this manifests itself for all to see. If you look around your Shul, and you see a young man or Bochur in the Chassidishe levush learning Gemorah instead of sayig Tikkun, that's your man.
So, next time you hear from a Chassidishe Yungerman, that you "live in a different world", tell him he's right, because you're living in the world that the Besh"t left for us.