There are those who claim to love G-d and defend his laws, then they go and do the craziest things, things that make the G-d haters out there even more brazen.
Those of you who watched the Arafat dying fiasco in France last year will remember this guy,he's the Arabphile on the left, praying for his majesty's speedy recovery.
A while back he tried to make a Bris in Antwerp, where his in-laws live, but he was thrown out of Shul. Now,
he's made a Bar-Mitzvah for another hopeless child of his in Vienna
, and look who came to the party. Seems like he's trying to gain state recognition as "chief rabbi" of "Torah-true" orthodox Jews in Vienna, something not easily attained, so he's gotten a friend to go to bat for him.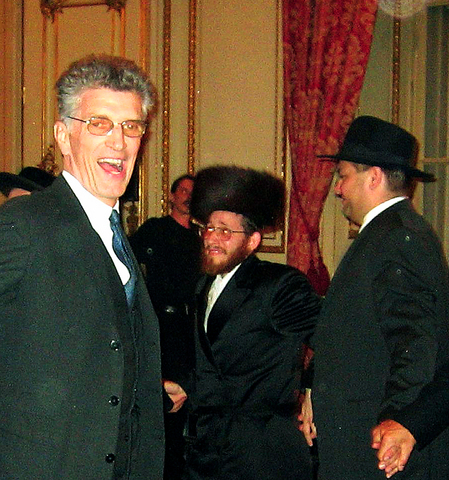 Which gets me to thinking: How is it that their so-called zealots, in whose heart burns a love for Hashem can join with murderers and Nazis? I can understand throwing stones, burning trash bins and the like, but this? Does this mean that all zealousness is nothing more than anger and negative energy channeled incorrectly, and that had these people been born Muslim they would've been Muslim extremists?
The Torah is full of examples of zealousness, from Pinchas on, so they do have a platform to stand on, but is this what was meant?